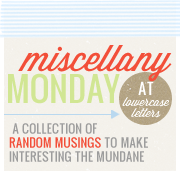 Hello good people! I just came across this really awesome blog over the weekend. See the pic to the right. You type 5 things of complete randomness every Monday. So here it goes, be sure to click on the pic and look at others that have posted a link to their random oddities.
I have to say I have an obsession w/ any of the original cast of 90210. Brian Austin Green I still heart you.
Totally wish I could scrapbook every single day. That is something to work towards, thats not possible at all right now.
Football? I don't care who's going to the Superbowl. Although when Superbowl XL was at my work because Detroit was the host city, I did enjoy it. Couldn't tell you who played that year, but I got to meet all sorts of celebrities.
Travelling is probably one of my favorite things to do, just wish I had the funds to do it more frequently.
I haven't had a chip sandwich in years. Oh my goodness, I will have before the week is over. Just plain chips w/ mayo, mustard, cheese all layered in your choice of bread. My mom used to make them for me all the time, and then my co-worker started eating them too.
So there it is, funny how those things popped in my head. Stay tuned for next weeks random writing. Join in too; there's time still.